5 WANTON MEE PLACES YOU'VE GOT TO TRY
Christian Sng
D'YOU EVEN WANTON BRO? –
The Summer State talks favourite Wanton Noodle joints in the Lion City.

We had the privilege of sitting down with the Summer State this week to answer the age old question: Which stall holds the wanton noodles to our hearts?
So really, what do these rockstars look for in a bowl of wanton goodness- the band gets real intense with us, breaking down the inner workings of a great bowl. Let's find out what they think makes their choice the best-

"Wanton Mee is religion bro, choose wisely." – Bryan Santa Maria


BRYAN SANTA MARIA'S CHOICE: ENG'S NOODLES HOUSE
287 Tanjong Katong Rd,
Singapore 437070
11am – 9pm

"The chilli, the pork lard, the soup, the water chestnut, it's everything dude, it's all just amazing."

Eng's boasts a 60-year-old recipe, aiming to bring the traditional 'street' wanton noodles to the current generation. Probably the oldest wanton mee name in the east, they have since moved from a hawker stall to a shop house of their own along the Tanjong Katong stretch. Bryan goes on and on about the famous chilli, which is argued by some of his bandmates as being a little too spicy, but hey! – What is too spicy when it comes to great chilli yeah?
RITZ'S CHOICE: FEIFEI WANTON MEE
72 Joo Chiat Pl,
Singapore 427785
24 hours

"It's the hoodness of it man, the vibe, and the noodles are like texturally on point, super dope."

Like Eng's, Feifei Wanton Mee is probably on the tip of everyone's tongue when it comes to a solid bowl of dumpling goodness. Boasting a vast history of bringing the joy of wantons to the masses for many years as, Feifei now resides within two shops, across one another, along the side roads of Joochiat. Being located at a street that bleeds a strong cultural personality, Ritz finds a strong appeal in having his favourite wanton noodles in a place that has that distinct character. The noodles make a good bowl of wanton mee, and he feels that the noodles are just perfect down at Feifei's.
VIC'S CHOICE: FIRST LOVE WANTON MEE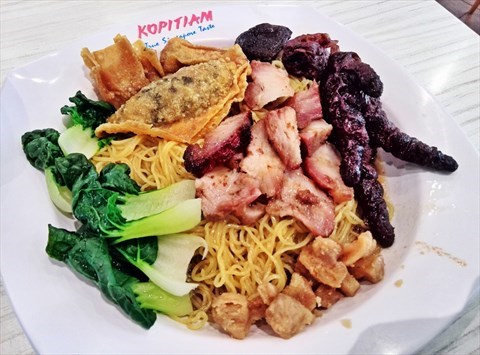 Ratings & Reviews of Singapore Restaurants | OpenRice Singapore
68 Geylang Bahru,
#01-3201,
Singapore 330069
6.30am – 2pm

"It's definitely my favourite. It's really homely there, aside from the fact that it's literally near my home."

Located along Geylang Bahru, First Love Wanton Mee doesn't hold as much of a history as the other joints might, but they definitely do make up for it with the sheer quality of their noodles and service. Vic shares with us the relationship she has built with the lady over time, and the free wantons she gets with said friendship.


EDWIN'S CHOICE: BEI-ING YUN TUEN NOODLE

50 East Coast Road #01-64,
Roxy Square,
Singapore 428769

"Basically the perfect combination of sauce, char siew, crispy wantons, and noodles."

On the ground floor of one of the oldest buildings in the east, Roxy Square, Bei-ing has been leaving hungry east-siders satisfied for generations. From the comical uncle that runs the place that'll shout your orders in mandarin with a particular enthusiasm (and intense volume), to the sentimental setting of eating in what just might already be a cultural artifact, Edwin puts his money on Bei-ing's and their top notch crispy wantons. Bryan also adds that the owner kind of looks like Henry Thia.


SHAYKH'S CHOICE: MR TEH TARIK




burpple.com
Find a Mr Teh Tarik branch near you!
http://www.mrtehtarik.com.sg/branches/

"Calm down guys! Its halal wantons with chicken! The noodles are really pretty game."

Mr. Teh Tarik is a franchise that many Singaporeans would already be familiar with. Shaykh introduces us to them all over again, pointing out that they serve up a halal version of the dish for our muslim friends accurately named Sedap(tasty) Noodles. The noodles and sauce are similar to that of the traditional wanton mee get-up, but the pork-filling of the dumplings, and the char siew, are replaced with chicken instead! Shaykh gets his fill of this national treasure here, and recommends it to all, muslim and non-muslim alike.


We leave the band fighting over their picks, and as we leave it to them to continue their onslaught of a debate, we'd like to know what YOU think is the absolute, undisputed, best wanton mee stall in the Lion City and why – let the band know and perhaps they'll change their minds! Let us know in the comments!

Check out The Summer State:
http://facebook.com/thesummerstate
http://youtube.com/thesummerstate
http://thesummerstate.tumblr.com